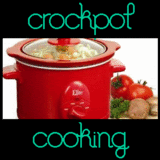 It's time to share your favorite crockpot recipes! Here's how it will work.
1. Add the "crockpot cooking" button to the blog post in which you're sharing your recipe. To do this, just copy the code below the button and paste it into your blog post when in html mode.
(if you grabbed the code I posted last week, it was messed up so please use the code from this post!)
2. Use the Mr. Linky form below to enter the name of your recipe and a link directly to your recipe post.
3. Check out all the other yummy recipes by clicking around on the links.
Let me know if you have any questions...can't wait to see all the recipes!